When it comes to female pleasure, the dildo is probably one of the best known sex toys, except perhaps for the Magic Wand. The dildo has been around for hundreds, perhaps even thousands of years according to some archeological findings, in one form or another. It has become synonymous with female masturbation.
The Rabbit Vibrator
Of all the dildos available, few are as loved as the Rabbit Vibrator. Depending on its size, it can seem intimidating at first. One use, however, is all it takes to fall in love. It provides dual stimulation in a way that makes even multiple orgasms easy to achieve through masturbation or even foreplay.
The rabbit vibrator features a shaft with an appendage coming off the base. The appendage gives the vibrator its name. It usually ends in two thin tongs that often resemble rabbit ears. In all models, the appendage vibrates. Some also feature either a vibrating or pulsing shaft.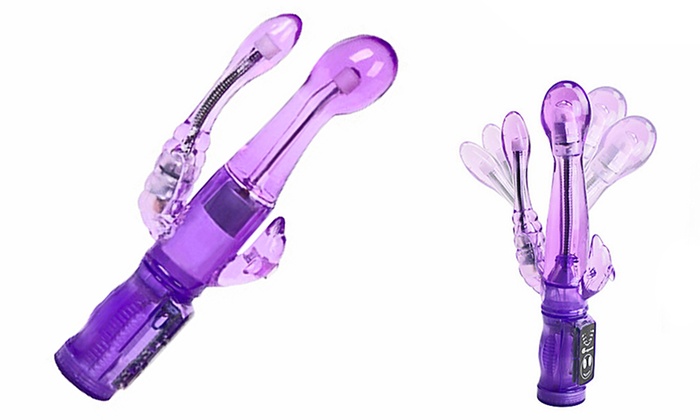 Variations
Variations on the rabbit dildo speak more to function and focus rather than preference. Some feature a realistic shaft, while others are shorter and slightly bent for better G-Spot stimulation. Waterproof rabbit vibrators are ideal for the tub or shower (some include suction mounts) while others are meant primarily for the bedroom.
Uses
The most obvious use for the rabbit vibrator is masturbation. Easy to use, a well-lubed vibrator will slip easily into your body. The ears will stimulate your clitoris while the shaft stimulates your G-Spot or other areas along the vaginal wall. The purpose of the rabbit is to provide you with both a clitoral orgasm and either a G-Spot or Deep orgasm. While at first you may only experience one or the other, regular use will help you learn your body's rhythms so you can master achieving both at the same time.
The vibrator can also be used during foreplay. Contrary to popular myth, your vagina does not "stretch out" from use. In fact, you may be tighter after using the dildo because of the contractions you experience from the G-Spot and Deep orgasms. This mixed with the engorged tissue from your orgasm means that using it for foreplay will enhance intercourse for you.
It will also enhance it for your partner. He will notice the difference as well, both the feeling of your engorged body and the contractions you experience from the orgasm.
Care
Caring for your rabbit is important.
Use a water-based lubricant. Depending on the material, other lubes may damage your rabbit. Water-based lubricants tend to be universally safe for sex toys.

Clean it after use. Use a sex-toy safe cleanser and let it dry before storage. Do not use soap or household cleaners.

Use it only in your vagina. If you enjoy anal pleasure, have dildos specifically for anal use and store them separately.

If you notice the dildo becomes sticky over time (this can happen with more flesh-like varieties) then sprinkle your clean, dry rabbit with corn starch before storing it. For the sake of your health (and the care of the rabbit) do not use Talcum Powder.